Apple today released macOS Monterey 12.4, the fourth major update to the ‌macOS Monterey‌ operating system that launched in October 2021. ‌macOS Monterey‌ 12.4 comes over two months after the launch of macOS Monterey 12.3, an update that added Universal Control.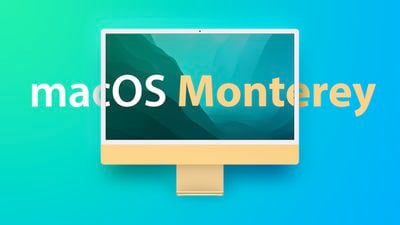 The ‌‌‌‌‌‌macOS Monterey‌‌‌ 12.4 update can be downloaded on all eligible Macs using the Software Update section of System Preferences. Apple has also released a macOS Big Sur 11.6.6 update for those who are still running Big Sur, as well as a macOS Catalina 2022-004 security update.
Following the ‌macOS Monterey‌ 12.4 and iPadOS 15.5 updates, ‌Universal Control‌ is no longer in beta. It is now an official feature that Apple has deemed issue-free, and the beta labeling has been removed. ‌Universal Control‌ was introduced in March and it allows you to use a single mouse/trackpad and keyboard across multiple Macs and iPads.
For the Studio Display, ‌macOS Monterey‌ 12.4 adds support for the 15.5 firmware, which is designed to improve the webcam quality.
There's also an update for the Podcasts app, with Apple adding a setting that limits the number of episodes stored on a Mac and automatically deletes older ones.
Related Stories
Apple Releases macOS Monterey 12.2 With Safari Vulnerability Fix
Apple today released macOS Monterey 12.2, the second major update to the macOS Monterey update that launched in October. macOS Monterey 12.2 comes over a month after the release of the 12.1 update, which brought SharePlay support. The ‌‌‌macOS Monterey 12.2‌‌ update can be downloaded on all eligible Macs using the Software Update section of System Preferences. Apple has also…
Apple Seeds Fourth Beta of macOS Monterey 12.4 to Developers [Update: Public Beta Available]
Apple today seeded the fourth beta of an upcoming macOS Monterey 12.4 update to developers for testing purposes, with the new update coming a week after the release of the third macOS Monterey 12.4 beta. Registered developers can download the beta through the Apple Developer Center and after the appropriate profile is installed, betas will be available through the Software Update mechanism…
Apple Releasing macOS Monterey on October 25
Following months of developer and public beta testing, Apple today announced that macOS Monterey will officially launch on Monday, October 25. macOS Monterey maintains the same design as macOS Big Sur but includes several enhancements across the system. macOS Monterey consists of a completely redesigned Safari, Shortcuts for the Mac, Quick Note, and Universal Control, which will be coming in …
Apple Releases macOS Monterey 12.3.1 With Bluetooth and Display Fixes
Apple today released macOS Monterey 12.3.1, a minor update to the macOS Monterey operating system that launched in October. macOS Monterey 12.3.1 comes two weeks after the launch of macOS Monterey 12.3, an update that brought Universal Control. The ‌‌‌‌‌macOS Monterey‌‌ 12.3‌‌.1 update can be downloaded on all eligible Macs using the Software Update section of System…
Apple Seeds Second Beta of macOS Monterey 12.4 to Developers
Apple today seeded the second beta of an upcoming macOS Monterey 12.4 update to developers for testing purposes, with the new update coming two weeks after the release of the first macOS Monterey 12.4 beta. Registered developers can download the beta through the Apple Developer Center and after the appropriate profile is installed, betas will be available through the Software Update…
Apple Releases macOS Monterey 12.2.1 With Bluetooth Battery Drain Bug Fix
Apple today released macOS Monterey 12.2.1, a minor bug fix update that comes two weeks after the launch of macOS Monterey 12.2. The ‌‌‌‌macOS Monterey‌ 12.2.1‌‌ update can be downloaded on all eligible Macs using the Software Update section of System Preferences. According to Apple's release notes, macOS Monterey 12.2.1 addresses a bug that was causing Bluetooth devices…
Apple Seeds First Beta of macOS Monterey 12.2 to Developers
Apple today seeded the first beta of an upcoming macOS Monterey 12.2 update to developers for testing purposes, with the new software coming shortly after the release of macOS Monterey 12.1. Registered developers can download the beta through the Apple Developer Center and after the appropriate profile is installed, betas will be available through the Software Update mechanism in System…
Apple Seeds First Beta of macOS Monterey 12.4 to Developers
Apple today seeded the first beta of an upcoming macOS Monterey 12.4 update to developers for testing purposes, with the new update coming three weeks after the release of macOS Monterey 12.3, which introduced support for Universal Control. Registered developers can download the beta through the Apple Developer Center and after the appropriate profile is installed, betas will be available…
Popular Stories
Apple's Rumored 12-Inch MacBook Could Be Pro Model With M2 Pro and M2 Max
Bloomberg's Mark Gurman on Thursday reported that Apple is considering launching an all-new 12-inch notebook at the end of 2023 or in early 2024. Gurman said it is unclear if the 12-inch model would be a low-end MacBook or a higher-end MacBook Pro. Twitter user "Majin Bu" has since claimed that the model will be a new 12-inch MacBook Pro that may be equipped with Apple's next-generation M2…
Apple Explains Why Stage Manager is Limited to M1 iPads in New Statement
One of iPadOS 16's key new features is Stage Manager, which allows users to resize apps into overlapping windows for an improved multitasking experience. Stage Manager also fully supports an external display, allowing users to work with up to four apps on the iPad and up to four apps on the external display simultaneously. To the disappointment of some users, Stage Manager is limited to iPad …
Hands-On With macOS Ventura
Apple on Monday introduced macOS Ventura, the newest version of the operating system that runs on the Mac. Set to come out this fall, macOS Ventura is currently available to developers, so we thought we'd take a deep dive to show MacRumors readers all of the new features that are in the update. Subscribe to the MacRumors YouTube channel for more videos. Our latest YouTube video highlights…
Top Stories: WWDC Recap of iOS 16, New MacBook Air With M2 Chip, and More
Whew, what a week! We're still recovering and trying to absorb all of this week's WWDC announcements, as in addition to jam-packed segments devoted to Apple's various operating systems, we also got some new hardware with the introduction of the M2 chip and a couple of new Macs running it. We'll have the next several months to dig through Apple's software updates before they launch to the…
Five Useful Features Coming to iPhone on iOS 16
While the headline feature of iOS 16 is the ability to customize the Lock screen with new fonts, widgets, and more, the update will include several other useful features on the iPhone, with five of our favorite additions highlighted below. iOS 16 is currently in beta for Apple developers only, but Apple said a public beta will be available at some point in July. iOS 16 will be released for…
Here Are All the macOS Ventura Features Your Intel Mac Won't Support
Apple's public release of macOS Ventura is expected sometime in October, but given the number of features in macOS Monterey that were limited to Apple silicon Macs, will Intel Mac owners again feel left out in the cold this fall? Fortunately, it doesn't look like that will be the case this time round, with many of the major features in macOS 13 offering full functionality on both Intel and…
https://www.macrumors.com/2022/05/16/apple-releases-macos-monterey-12-4/