A tablet is a wireless, portable personal computer with a touchscreen interface. The tablet form factor is typically smaller than a notebook computer, but larger than a smartphone.
The idea of tablet computing is generally credited to Alan Kay of Xerox, who sketched out the idea in 1971. The first widely sold tablet computer was Apple Computer's Newton, which was not a commercial success. Technological advances in battery life, display resolution, handwriting recognition software, memory and wireless internet access have since made tablets a viable computing option.
Today, the most common type of tablet is the slate style, like Apple's iPad, Microsoft's Surface or Amazon's Kindle Fire. External keyboards are available for most slate-style tablets, and some keyboards also function as docking stations for the devices.
Other styles of tablets include:
Convertible tablets. These typically have a display that rotates 180 degrees and can be folded to close, screen up, over an integrated hardware keyboard. Convertible models may allow user input through a variety of methods in addition to the hardware keyboard, including natural handwriting with a stylus or digital pen and typing through a screen-based software keyboard.
Hybrid tablets. Sometimes referred to as convertible or hybrid notebooks, a hybrid is like a regular notebook, but has a removable display that functions independently as a slate.
Rugged tablets. A slate-like model that is designed to withstand rough handling and extreme conditions. Rugged tablets are usually encased in a thick protective shell and have shock-protected hard drives.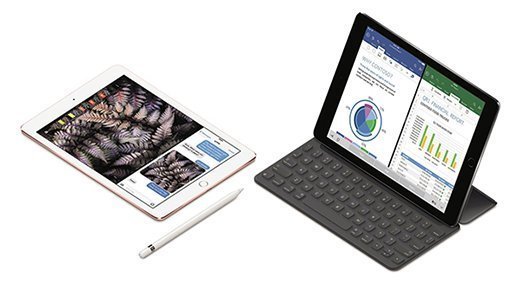 Tablet PC operating systems and features
Consumers and businesses have a range of tablet devices and operating systems from which to choose. Collectively, tablets have made numerous technological advances and gained increasing popularity in enterprise BYOD environments.
Microsoft's Surface and Surface Pro tablet PCs are configured for a 64-bit Windows operating system. The Surface Pro 4 has a 12.3-inch screen and includes a stylus for drawing and writing on the touchscreen. Google's Android is the best-selling tablet OS; the 6.0 Marshmallow version is featured on such devices as the Lenovo Pro 12 tablet, and 5.1 Lollipop is included in the Samsung's Galaxy Tab E tablet PC.
Apple is largely responsible for igniting tablets' current popularity, having released its first-generation iPad in April 2010. Since then, Apple has developed a family of associated devices, including the iPad Air, iPad Pro and iPad Mini. The iPad Pro is available in two touchscreen sizes: 9.7 inches and 12.9 inches. As for capacity, the iPad Mini ranges from 16 GB to 128 GB, while the iPad Pro is available with 32 GB to 128 GB of storage. Apple also released the Apple Pencil stylus for the iPad Pro.
https://www.techtarget.com/searchmobilecomputing/definition/tablet-PC